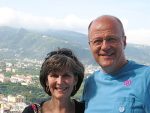 I grew up with great parents who loved me, in a home where we did go to Sunday School and church. I always thought there was a god, but I struggled with what this god really looked like. I went on to college and stopped attending church until graduate school when my girlfriend (Deby) said we needed to attend; and so we did.
Within an amazing decade of accomplishments, I ended up with 3 degrees (BS, MS, PhD), got married (Deby is in the picture), had 2 children, owned two different homes, worked as a school psychologist and then a first-grade teacher. I was very driven.
We then moved to Texas where I was an Assistant Professor of Psychology (half-time in Education) and I perfected being a workaholic at the expense of my wife and family. I attended church regularly and was even in a special small group to learn about how to share the Christian faith.
Now please understand that all my life I had had a picture of the perfect man that I needed to be. That picture included being nice, honest, hard working, married, and successful. In general people on the outside liked me and thought I was a pretty good guy.
But I increasingly found that I did not measure up to my perfect image. I could not be that perfect man — I failed constantly and I was becoming increasingly frustrated and depressed about my failures. I had bad thoughts, I got angry, I hurt people, especially my wife, with my words.
My marriage was careening quickly toward divorce. It was at this hopeless point in my life that God opened my eyes to the fact that I would never be perfect — I was a sinner, unable to be truly good. I realized I needed a savior and I fell literally on my face, crying, and accepted Jesus Christ as my savior and my Lord. My life changed drastically.
That was 30 years ago. God has given me a productive 32-year career in higher education, a wonderful marriage of 36 years to Deby, and a special relationship with our three sons (David, Ryan, & Matthew). I have been blessed in so many ways.
I continue to grow in how I understand who God is, what He has done by sending His only son, Jesus Christ, to die for me as well as to live that perfect life and give it to me, and to learn how to continue to do more and more of what God would have me do in every instance of every day. I/we have been very blessed to have excellent biblical teaching, mentoring, and fellowship at our local church (Clemson Presbyterian Church) the past 26 years. And now we even have 4 grandchildren!
My Life
Hobbies

basketball; fishing

In college I drove

Dodge Dart

Worst school subject

French

College for undergrad degree

Florida State University

Best advice I ever got

Always seek to understand how big my sin is so that I can more fully understand how big my God is.

Favorite books

A Shepherd's Look at the 23rd Psalm; Prodigal God

Favorite city

Clemson to live in; San Antonio to visit

Favorite coffee

don't drink it

Nobody knows I

took ballet as a pre-schooler

If I were not a professor, I would

possibly be a pediatrician

Latest accomplishment

Helped with our church undertaking to build a total home for an Alabama tornado victim.
Quote

By definition you can only "do your best" once in your lifetime. So "try your best" always and then leave the results in God's hands. [Please see Prov 3:5-6.]
<! --/.prof-profile -->
Department

University

State
<! -- /.vitals -->