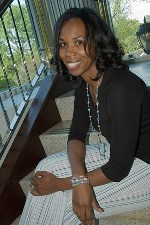 From a young age I was painfully aware of my need for God. I had a turbulent home life because of my father's mental illness and alcohol abuse. Neighbors and family members often invited me to church and I was happy to accept their invitations. When my parents divorced, about the time I was eight, my life became more stable. I got baptized and officially joined a church in eighth grade. Unfortunately, that was about the same time I started experiencing adolescent peer pressure.
At first I loved church and youth group, but I gradually drifted away. I wasn't practicing the Christian habits that could keep me spiritually strong. Usually, a pretty confident person, I was losing the confidence to profess my faith. By the time I went off to college across the country from Phoenix, Arizona to Atlanta, Georgia, my faith was very weak. In my first semester of college, I lost my virginity and had stopped going a church. This was the beginning of a two year battle of celibacy and moral failure.
Probably because of a lack of power in my own life, I began to question Christianity. I started reading about other religions including Mormonism and Islam. I eventually became paranoid that the end of the world was coming because in a desperate attempt to identify with Christians I listened to a lot of apocalyptic preaching. At about that same time I became a target of a cultish religious group that kept me so sin conscious that I had lost all peace.
Then one afternoon after spending a weekend with my boyfriend, I felt a deep sense of despair. I had always wanted to be a role model for my younger niece, and that afternoon I realized that I didn't want her to be anything like me. I was empty. I hadn't prayed or attended church in months, and I was losing my battle with chastity after having been celibate for over a year. While crying in my bathroom, I was too depressed to look in the bathroom mirror.
It was then that I remembered that I didn't have to live that way.I went into my bedroom, sat on my bed, took my bible off of the shelf and prayed. I asked God to come back into my life. I promised that I would do whatever He wanted if He would just come back into my life and give me peace. Within minutes I began to feel hope again. Then I remembered that a girl at my school named Monique had invited me to church and given me her phone number. I called Monique and asked if I could go to church with her the following Sunday.
I still attend that same church. A few months after I began attending, I was baptized a second time as a symbol that I had put the old me, the one without peace, to death. One of my favorite scriptures is "The peace of God that passes all understanding will guard your heart and mind through Christ Jesus" (Philippians 4:7) and another is "For I know the plans I have for you declares the Lord, plans to prosper you and not to harm you, plans to give you a hope and a future" (Jeremiah 29:11).
Today I am secure in the love of Christ and I also enjoy the love of my family, beginning with my husband and children. People say I am bold, but all of my confidence comes from knowing that I can face God, unafraid to hide any part of myself from Him. One of my goals is to challenge college students to know God and live passionate, confident, purposeful lives.
My Life
Friends describe me

as steady and honest.

Hobbies

Running and aerobics.

Fantasy dinner guests

Condoleeza Rice, Sanaa Lathan

In college I drove

N/A...I rode MARTA

Worst school subject

Pre-Calculus

College for undergrad degree

Spelman College

Best advice I ever got

Listen to your husband

Favorite books

Feminism is not the Story of My Life by Elizabeth Fox-Genovese, Nervous Conditions by Tsitsi Dangarembga, A Lesson before Dying by Ernest Gaines, Girl Meets God by Lauren Winner, The Thrill of the Chaste by Dawn Eden

Favorite movies

One Night with The King, The Nativity Story

Favorite city

Quebec City

Favorite coffee

N/A

Nobody knows I

ran my first 5K, the Willie Nelson Birthday 5K. I lapped Willie, but he was like 70 years old at the time.

If I were not a professor, I would

be an at-home mom , or a scriptwriter, or any kind of writer.

Latest accomplishment

I ran the Silver Comet Half-marathon on October 31, 2015.

Current research
<! --/.prof-profile -->
Department

University

State
<! -- /.vitals -->