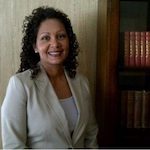 Today I am going to share with you how I started my relationship with Jesus Christ and how it has changed my life. Growing up in Nicaragua my dad was an agnostic and my mom was a Christ follower. We did not attend church and I did not believe in God and thought my mom was crazy.
In 1980, we moved to Miami and my mom started to take us to church. The people were caring and loving, but I just did not believe in any of this God stuff. I was too smart and too strong. I started college at UC Berkeley and majored in mathematics. I went in as an agnostic and left an atheist. Then I obtained M.S. and Ph.D. in Agricultural Economics. By 2003, I had achieved my life's goals of acquiring material possessions and position. Yet, I still felt completely un-satisfied with my life. I thought "there has got to be more to life!". I sought fulfillment in alternative methods, but nothing helped. One day I told my mom: "OK, now I am ready to try even your God." On April 18th, 2004, sinner's prayer was simply: "JESUS IF YOU REALLY EXIST, I NEED HELP." And yes, this God did help me!
Since then, starting my journey with Jesus, this is what I have learned:
1) God exists because I have seen His hand work in my life. He speaks to me through His Word addressing very specific issues in my life.
2) The Holy Spirit is at work in me to help me understand God's word and to direct and empower me.
3) Even when I rejected Him, God loved me. He loves me so much He gave His own son, Jesus Christ to pay for ALL MY sins.
4) God is merciful and compassionate: I am keenly aware and so thankful that God has not let me live out the full extent of the consequences of my rebellious actions. GOD IS NOT MAD WITH ME. HE IS MAD ABOUT ME!!!
5) God sets me free from fears:
a. Fear of leaving a domestically abusive marriage.
b. Facing my greatest fear: being financially poor
6) God is my provider:
a. On Dec. 4, 2007, I quit my high paying corporate job to focus on my family and to fulfill my life's calling in education.
b. Soon after, I went through a lengthy, painful, and expensive divorce & I spent all my savings and incurred debt to secure the protection of my family.
c. In the last seven years, during the Great Recession, and while working only part-time, I paid off all my debt, just under $200,000. As of April of 2014, I am 100% debt free.
d. For seven years I have lived with my youngest sister and my mom and we have not had one major argument! Now, that's a miracle in family relationships!!
7) MY SELF WORTH DOES NOT EQUAL MY NET WORTH. Material possessions and position are great TOOLS to Glorify God. But, when I sought these things above God, these tools become my masters/idols. These tools were never meant to fill the void in my heart and soul that only God Himself can fill.
You can listen to my story, as shared at my church: http://www.granadapca.org/SERMONS/Feb%2015%202015%20story.mp3
My Life
Friends describe me

As a thinker, serious, strong, courageous, provider of encouraging and empowering words

Hobbies

Jogging, swimming, reading, thinking, traveling

In college I drove

No car at Cal ..... walked and took BART (train)

Worst school subject

P.E.

College for undergrad degree

University of California-Berkeley

Best advice I ever got

Don't tell it as it is ...... tell it as it could be.

Favorite books

Living the life you were meant to live

Favorite movies

The Pursuit of Happiness

Favorite city

San Francisco

Favorite coffee

Peet's coffee

If I were not a professor, I would

A globe-trotting, international missionary.

Latest accomplishment

Learning to swim and becoming a volunteer swimming instructor!!!

Current research

Effects of trauma, stress, burnout on employee profitability and company profitability.
Quote

As a man thinks in his heart, so is he (Prov. 23:7)
<! --/.prof-profile -->
Department

University

State
<! -- /.vitals -->