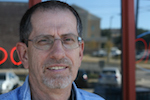 Students should be well aware that their faculty members are 'real people,' just like them. They may be older (and in some senses a bit wiser) but are, nevertheless, human beings with wants, desires, questions, and issues like everyone else. As such, I use this brief opportunity to share with students who I am outside of the classroom.
Unlike many individuals on a university campus, I am a conservative, Christian believer. Some people think there are few such people on a university campus. That is far from the truth. There are Christian believers on campuses throughout the world. However, I would not suggest that they are in the majority.
The major difference between those of such persuasion and others is that of our 'world view.' Here is where my "world view' comes from. I was raised in a Christian home. I have attended a church service better than 90% of the weeks since I was a child. I did so even when I was a child, a teenager, a young adult, single, away at college (which actually led to my meeting my wife), living alone, in the military, married, and away from home.
I did not have a great 'Damascus Road' conversion as a result of drug use, murder, escaping for prison, etc. I am a 'child of the '60s' who did not engage in any of the so-called 'radical' social movements of that time, but did engage in activities which I think helped bring about brotherhood, fellowship, and understanding of people. There are various philosophies, religions, theories, and plans that direct individual lives.
I am persuaded that the Bible teaches the way of life and eternal life. I don't pretend to understand all of what the Bible presents (anymore than I pretend to understand everything there is to know about my academic specialty). Much of the Bible must be taken on faith. Yet, there is much scientific evidence to support the historical accuracy of Biblical events.
I am willing to entertain alternative thoughts, theories, and ideas. I am not closed-minded about these things. It would, nevertheless, be difficult to convince me that human beings are simply a result of chance. Moreover, I do believe that the MOST important concept to study is, 'What about this Man called 'Jesus'?' Was He real? Was He who He said He was? Did HE do what HE said HE did?
One can approach these questions from scientific, philosophic, historic, and archaeological perspectives. Ultimately, however, it comes down to a matter of faith AND reason. I simply am unable to conclude anything other than the authenticity of the Bible and of the claims made regarding life and death. As such, I try to live by it, love by it, and manifest God's all-loving nature through my family, work, friends, and life.
When I awake at night and find myself considering the 'important' matters of life, these are my family, my friends, my colleagues, and my students. I literally walk the halls and classrooms of my mind and pray for individual students, colleagues (ALL of them), my friends, and my family by name. I count it a blessing to be able to pray for them. I enjoy doing so.
My Life
Friends describe me

A bit goofy (well, more than a bit)

Hobbies

Golf; Outdoor things

In college I drove

1964 Chevy

Worst school subject

Physics

College for undergrad degree

University of West Florida

Best advice I ever got

You can do anything you want (Mom); Are you having fun? (Dad)

Favorite books

Count of Monte Cristo; The Charm School (Nelson DeMille); Most anything by Nelson DeMille

Favorite movies

Too many to choose from (M*A*S*H; Kelly's Heroes)

Favorite city

Whoa - way too many to choose from (Tampa; Colorado Springs)

Favorite coffee

Never touch the stuff!

Nobody knows I

If I told you, then SOMEBODY would know

If I were not a professor, I would

be an Investment Counselor
<! --/.prof-profile -->
Department

University

State
<! -- /.vitals -->