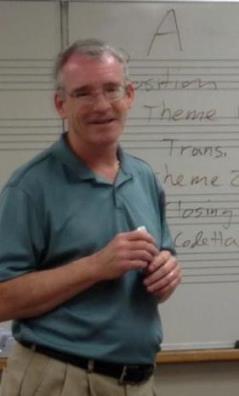 Raising three children to adulthood in partnership with my wife and My Lord has been a remarkable journey, with frequent highs, several lows, and even a few events and circumstances that truly cannot be explained without using the word "miracle." I like to think that all these experiences have shaped me and will continue to shape me into an effective and empathetic teacher in a variety of musical disciplines.
My Life
Friends describe me

as quiet and quirky.

Hobbies

Long Walks.

Worst school subject

Pre-calculus, hands down!

College for undergrad degree

UNLV

Best advice I ever got

"You can't make an omelet without breaking a few eggs."

Favorite books

I don't know where to begin....

Favorite movies

anything with Humphrey Bogart, James Stewart, or Katherine Hepburn.

Favorite city

New York City

Favorite coffee

Sulawesi

Nobody knows I

If I post it here, somebody might know....

If I were not a professor, I would

be an Editor.

Latest accomplishment

Developing a graduate course that addresses the following: 1. What is music? 2. What does it mean? 3. Why does it matter?
<! --/.prof-profile -->
Department

University

State
<! -- /.vitals -->