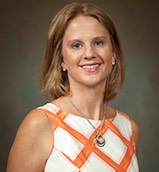 My name is Marianne Herr Glaser, and I have been teaching at Clemson University in the Department of Communication Studies for about a decade. I mention my middle name 'Herr' when introducing myself for two reasons.
First, I grew up in Clemson, South Carolina and am frequently known as 'one of the Herr girls' (a reference to my two sisters) and two, because I attended Clemson for both my undergraduate and graduate degrees before I was married in 2002. Though my name changed, I am still frequently listed on campus by my maiden name.
My husband Nick Glaser and I live with our two children Katie Ann and Harrison in Braselton, Georgia. When looking back on my life I define it by life changes. For some this may be graduating from school, for others getting married, and for many, life before and after children.
Though these were all big moments in my life, there was no bigger defining life change than when I was seventeen years old crossing a bridge in Liberty, SC, and I asked God to save me. He did.
I define my life in two segments: my life before Christ and my life with Christ.
My life before Christ, this is where the polar opposites becomes important. Here is what everyone saw on the outside: honor student, student council, captain of the cheerleading squad, and voted Best All-Around by my peers. This was the life I presented to everyone everyday.
Here's the truth, on the inside I was empty, felt alone, unfulfilled, and eventually began to have suicidal thoughts. It was a life in severe turmoil, one of complete polar opposites, and on top of it all, no one knew.
I had everyone, including my family and best friends, fooled. They saw 'best all-around,' but the truth was I was dying inside. My heart and soul ached for something to fill the void I felt in my life.
It was during this time of living polar opposites, that my life came to an instantaneous resolve. I was driving to all-star cheerleading practice in Easley, SC and was at my breaking point. As I approached the bridge on Hwy 123 in Liberty, I decided this was it. I was either going over the bridge or not'¦
Crying and screaming, I cried out to God, 'God help me! Please help me!' It was instantaneous, almost euphoric. At that exact second, I knew my life had changed. The emptiness, feelings of being alone and unfulfilled, and painful cries where replaced by tears of joy. I had asked God into my life and he said yes. Like a strike of lighting, my life changed. I was full, full of God's love.
After that day in Liberty, SC, my life has never been the same. I live only one life, a life with Jesus Christ. I walk everyday with my best friend living in my heart. My marriage, children, and career are all guided with God's greatest purpose in mind. Of course, I still find myself hitting bumps in the road, but I know, "¦with God all things are possible.' (Matthew 19:26). With him, I can get through anything, accomplish anything, and live one life in peace.
My Life
Hobbies

reading books to my two children

Worst school subject

Accounting

College for undergrad degree

Clemson University

Favorite books

anything written by Nicholas Sparks (I can't help myself)

Favorite coffee

more of a sweet tea fan

Nobody knows I

love Clifford The Big Red Dog as much as my kids

If I were not a professor, I would

be a Physical Therapist

Latest accomplishment

Tribe Leader for VBS at my church (Chestnut Mountain Church)
Quote

"...with God all things are possible." (Matthew 19:26)
<! --/.prof-profile -->
Department

University

State
<! -- /.vitals -->