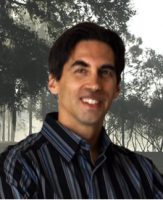 One of the reasons I enjoy physics is that it is a science that seeks to answer so many fundamental questions about our universe. Most scientists go about trying to understand and explain phenomena using naturalistic causes, or the laws of nature. But I have come to understand that the most important questions in life cannot be answered by science or nature. Questions such as: "Why is there something instead of nothing? " "Why are we here?" "What is our purpose?" I believe that all of us desire to have answers to such fundamental questions of our existence.
Of course, many scientists, philosophers and theologians have sought to answer these types of questions. I'm the sort of person who needs facts or hard evidence to back up any answers or explanations, especially to such important questions. I believe that evidence found in physics and other sciences overwhelming supports the case for a Creator, or God. And I believe that numerous lines of evidence support the claims Jesus made in the Bible – that he is God's son and through him we are saved.
Although I became a Christian at a young age, it took me a long time and lots of experiences and mistakes to really understand just how much I need Jesus. Not just his salvation, but his friendship. In the book of John Jesus says "I no longer call you servants, because a servant does not know his master's business. Instead, I have called you friends, for everything that I learned from my Father I have made known to you." To have Jesus as a friend is to trust him and to invite him into your life daily.
One of the things I love about Christianity is the simplicity found in the Bible. If I had to summarize my understanding of what it means to be a Christian and all that God has done for me, I would chose the response given by Karl Barth who is often regarded as the greatest theologian/philosopher of the twentieth century. Dr. Barth was on the campus of the University of Chicago during his lecture tour of the U.S. in 1962. During the question and answer time after his lecture, a student asked him if he could summarize his whole life's work in a single sentence. Dr. Barth thought about it for a moment, then looked at the student and said, "Jesus loves me, this I know, for the Bible tells me so."
My Life
Hobbies

I'm an avid rock climber and love pretty much any outdoor adventure. I also enjoy oil painting when I have time. and photography.

Fantasy dinner guests

Jesus, Albert Einstein, the apostle Paul, Helen Keller, Abraham Lincoln to name a few. I think I would enjoy just listening to them converse with each other!

Worst school subject

History. I don't think I appreciated the subject at the time.

Favorite books

Beautiful Outlaw by John Eldredge

Favorite movies

Anything SciFi

Favorite city

Taos, NM (for the natural beauty around it)

Favorite coffee

I've only tasted coffee once in my life!

If I were not a professor, I would

I have no idea, I have too many vastly different interests to know what I would end up doing if I weren't teaching.
<! --/.prof-profile -->
Department

University

State
<! -- /.vitals -->