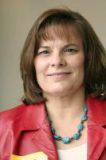 My Teaching Story and Philosophy
I love teaching, and I love international students ' that's my story in a nutshell. No one who knows me or has seen me teach has ever questioned my passion for teaching adult international students.
People can feel the excitement I have when I realize I have helped student make practical changes that will impact their future careers or personal lives. My husband often teases me, 'You were born to teach, and you would die if you couldn't teach internationals. They feed you!'
I never imagined myself as a teacher when I was growing up, but the first time I taught a lesson, I was surprised how much I loved the experience. I do not think I would love teaching if it weren't for the fact that I love international students, however, because I have always been intrigued with all things international. I did not start traveling until I was 15, but my parents often hosted internationals in our home, and I would stay at the table talking for hours even while my brothers and sisters ran off to play. I should have known my life would revolve around a passion for international students, travel, and learning.
I began teaching ESL very much by accident. Of course, every time I lived in or traveled to another country for an extended period of time, I was asked to teach English because people believe if you speak a language you can teach a language ' I couldn't.
My first real teaching experience came as an undergraduate student in Social Work when I was asked to volunteer to teach Spanish speakers to fulfill a class requirement. Because I spoke Spanish, they asked me to teach recent Spanish-speaking immigrants in an Adult Basic Education ESL class two nights a week and they did not seem to care that I had no formal teaching experience (maybe because it was an unpaid position and they were desperate).
Surprisingly, I enjoyed this experience more than any of my other coursework and was glad to be asked to continue working the next semester (for pay) with other recent immigrants from Iran, Vietnam, and Laos. This was in 1975 at the end of the Vietnam War when immigrants were beginning to come into this cold North Dakota town and no one knew exactly how to teach them English.
I quickly developed my philosophy of creating a friendly, supportive learning environment that mixed knowledge, practice, and fun to help reduce their learning anxieties and, therefore, boost their learning progress. I am sure this philosophy was also an accident because I had no formal training and only did what felt right to me.
Since formal ESL training was a relatively new field, it never dawned on me that I could actually make a profession of teaching adults until a friend of mine told me about the ESL master's program at the University of Minnesota. By then I had graduated from my undergraduate program, had applied and been accepted to a Ph.D. counseling program, and was working for one year as an international student advisor so I could afford graduate school.
'You can really make a living teaching ESL?' I asked my friend. The light bulb went off in my head and the next day I applied to the University of Minnesota, was quickly accepted, and found myself sitting in a graduate classroom and teaching two ESL classes the next fall.
My growth as a teacher has evolved in much the same way. Being a relatively new field with few trained instructors at the time, much of what I learned was by doing, experimenting, paying attention to what worked for students, and creating practical materials that met the needs of the learners. With the exception of two years teaching beginning and mostly illiterate Hmong students, my 32 years of formal teaching has focused on advanced English learners, and most have been 'post TOEFL' level students who have needed academic or professional English.
In the early 80s, few people were teaching such advanced learners, so again, my teaching had to develop from practice more than from reading teaching philosophies, methodologies, or observing others. For me, this has been a great journey because students have directed my learning and teaching as much or more than formal theories.
My teaching is very student oriented in the sense that I carefully evaluate the needs of a particular audience (students) and modify my teaching lessons, materials, activities, and focus to fit the specific needs of that audience. I am very privileged to work in settings with such dedicated students who are driven by their intense desire to learn and achieve. They challenge me, inspire me, and direct me in ways I may not have gone otherwise.
Teaching international students is challenging. It takes more than just credentials and training. It takes courage, dedication, sensitivity, understanding, knowledge of the students' specific needs, and patience, but I can't imagine doing anything different.
My Life
In college I drove

Volkswagen Bug - the original kind

Worst school subject

Statistics

College for undergrad degree

Moorhead State University

Best advice I ever got

Do what brings you passion

Favorite books

Recently: the Last Lecture

Favorite city

Prague and Madrid

Favorite coffee

Anything that's black
<! --/.prof-profile -->
Department

University

State
<! -- /.vitals -->