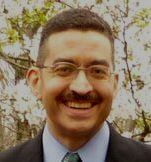 I have experienced several twists in my journey, all not what I was trying to do, all involving some risk I wanted to avoid, but all ultimately for the better. As a young man in college, I resolved not to get married until after I had experienced Navy life at sea. Why put a wife through that, when there are so many divorces? Better to stay single and avoid the risk of failure. But then I met my future wife, we had a whirlwind romance, and I got married two weeks before I reported to a submarine for three years of "extremely arduous sea duty." By God's grace, we stayed together. We now have seven children, and recently celebrated our 20th anniversary.
My Life
Favorite Quote
I find this comes in handy since I have 7 children:
"So do not worry, saying, 'What shall we eat?' or 'What shall we drink?' or 'What shall we wear?' For the pagans run after all these things, and your heavenly Father knows that you need them. But seek first his kingdom and his righteousness, and all these things will be given to you as well. Therefore do not worry about tomorrow, for tomorrow will worry about itself. Each day has enough trouble of its own." Jesus Christ, as quoted in Matthew 6:31-34 (NIV)
Friends describe me
as both smart and crazy, but not crazy-smart.
My hobbies
Family, jogging, variety puzzles, reading.
Best advice I ever received
You don't have to remember the truth.
My worst subject in school
If I weren't a professor, I would
be involved in nuclear submarine construction.
Favorite books
The Genesis Flood (non-fiction), The Space Trilogy (fiction)
Favorite movies
The Spitfire Grill, The Hunt for Red October, Master & Commander
Nobody knows I
can make this strange sound with my hands
My latest accomplishment
Completing my eighth semester teaching?
Current Research
Graph-theoretic change detection