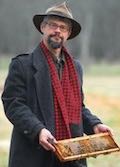 My walk with Jesus Christ has never been easy. Almost every gain has been bought with emotional cost and years of delay. As a result, at midlife I am only now beginning to apprehend some of the great truths of the faith at levels beyond platitudes. The beginning was ambiguous. I cannot point to a moment of salvation. It may have happened when my parents baptized me as an infant. It may have happened around age 10 when I was with my family, visiting friends in Tennessee. It may have been at a youth revival I attended at age 13. Or it may have been around age 27 when a co-worker at LSU explained to me the Reformers' doctrine of grace. Nowadays I am not so interested in the question of when, but I am interested in what is. I believe that it is God who initiates salvation, enables faith, and engineers all the circumstances'material, historical and psychological'that bring a person into His kingdom. I am evidence that religion is not just wish-fulfillment, because for me religion has been as much a cause for angst as for comfort. I am evidence against the notion that the moment of salvation demands one to be self-aware and decisive, wondering whether it is better described as God-aware and received. Maybe it's not a momentary thing at all; in my case, the realization took years to form. But my faith in Christ is persistent and irresistible'almost outside of myself, something I can consider with a measure of detachment and surprise. Something God compelled on me, and even the parts I feel that I contributed'a measure of assent and obedience'are in some mysterious sense from Him. It's all God, and to Him be all the Glory. If a route like this appears theologically overworked and unnecessary, it is nevertheless the route that God demands I walk. I try to be thankful for it. At my best moments I have the kind of gratitude for Jesus that only the rescued can have for a rescuer. If it took me 20 years to discover that it is God who saves sinners, I am also learning slowly how to live the Christian life. Love my enemy? Do good to those who hate me? Die to self? Impossible. But I think the principle is the same: just as it is God who saves sinners, it is God who lives His life in us. To be honest, I only understand that idea intellectually'as a platitude. I agonize along with St. Paul when he says, 'Why, oh God, do I do the things I hate?' I agonize over his enigmatic answer: 'Thanks be to God through Jesus Christ our Lord!' What kind of answer is that? Yet the authorities I read always come back to some form of the same thing: you don't live Christ's life; Christ lives His life in you. And somehow this happens with no violence to the individual's freedom. 'Whosoever loses his life for My sake,' says our Lord, 'will find it.' To me this is a mystery. God has withheld all but the barest glimpses. But I cling to the belief that God is good, and nothing will stop Him in the end from making my life a tributary to His glory.
My Life
Best advice I ever received
Be slow to judge because there's always one more fact you don't know.
My worst subject in school
If I weren't a professor, I would
Favorite books
everything Tolkien, everything CS Lewis, most of George MacDonald, Udo Middleman The Innocence of God, Rudyard Kipling Puck of Pook's Hill, Walter T. Brooks Freddy the Pig series, Isaac Asimov's sci fi
Favorite city
Chicago; Washington DC; Logansport, IN; Athens, GA; York, England
Favorite coffee
Grancoffee.com whole bean Colombian dark roast
Nobody knows I
want to be a Harley Davidson dude